Chocolate Dipped Paleo Snack Bites are a great way to snack and feel good about it.  Filled with nuts and seeds, they are held together with honey!  Gluten free and delicious!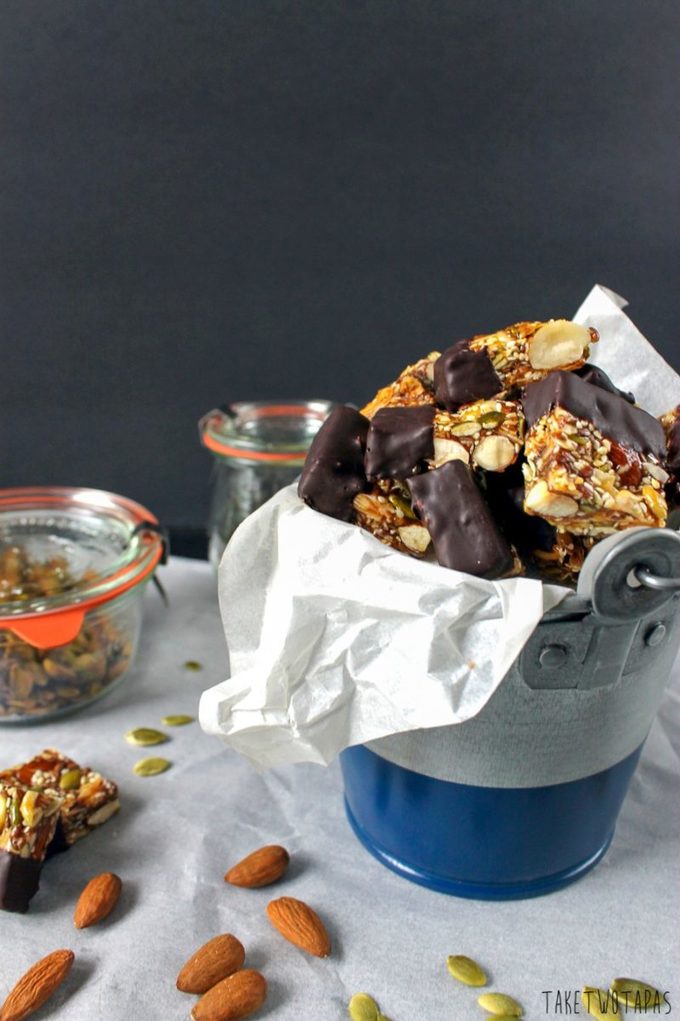 Recently I traveled to Atlanta with the family, you read the post about the fabulous fried chicken I ate, and while we were there we went to one of my favorite stores, Trader Joe's.  I have to say that before my Paleo challenge I was utterly hooked on their chocolate drops.  If you don't know what those are let me enlighten you.  They are sunflower seeds, or kernels, that are dipped in chocolate with a candy coating.  Kind of like M&Ms but with sunflower seeds. This got me inspired to make my Chocolate Dipped Paleo Snack Bites.
They are so delicious and I love the texture of the crispy coating and the smooth chocolate.  The seed was just a bonus inside that told me that it was healthy!  A serving of these is about a tablespoon which is roughly 37 candy-coated nuggets of love!  Not nearly enough since I would consume the 10 serving container in 2 servings.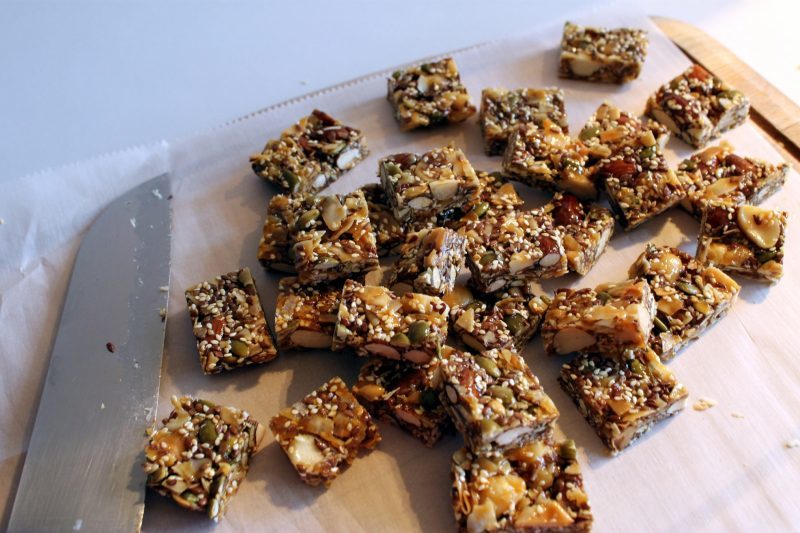 I also have a certain way that I eat them. Much like I ate Sno-Caps, when I used to eat them, it allowed me to savor each and every one of them.  I would take a small bite off the end and then eat the candy coating off the seed like a corn cob.
Then, at last, pop the seed in my mouth.  Yes, I ate them one at a time…  Sound ridiculous I know, but don't tell me that you don't have a way to eat certain foods like corn on the cob or french fries.
You may ask why I went off on this lengthy, and somewhat embarrassing, tangent and what it has to do with Paleo Snack Bites.  Well, at Trader Joe's this time, I not only found some roasted coconut chips that were amazing but some nut clusters that were covered in chocolate.
That got me thinking that I could make my Paleo Bars in smaller bite-sized nuggets, dip them in dark chocolate, and then enjoy them in smaller quantities.  Sometimes I just need a small bite and not necessarily a whole bar!  Plus the addition of chocolate makes it feel like dessert!
I hope you enjoy these yummy, and healthy, snack bites.
Make a batch and keep them on your counter for a wholesome snack.  Your kids will love them too!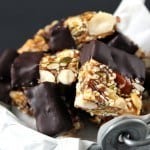 Print
Chocolate Dipped Paleo Snack Bites
These tasty treats are just bite-sized replicas of my Paleo Snack Bars with some chocolate added on! Great for snacking on the go!
Servings: 30
Author: Jennifer Stewart – Take Two Tapas
Ingredients
3/4




cup




toasted coconut

1/2




cup




toasted almonds

1/2




cup




toasted macadamia nuts

1/4




cup




toasted sesame seeds

1/4




cup




toasted pepitas

1/4




cup




flax seeds

3/4




cup




honey

1/4




cup




water

1/4




teaspoon




salt

3




ounces




dark or unsweetened chocolate
Instructions
Start by toasting all the nuts and seeds if they are not already done.
Mix all the nuts and seeds either a metal or glass bowl.
Heat honey and water in a heavy-bottomed saucepan over medium-high heat.
Using a candy thermometer, cook until it reaches 285F or the soft crack stage.
This should take between 5 -10 minutes.
When it reaches the appropriate temperature, pour honey mixture over the nuts and seeds.
Stir quickly as the mixture will begin to harden.
Pour into a parchment lined 8×8 square pan.
Press down to evenly spread the mixture with a greased spatula.
Let set for about an hour.
When ready to dip, cut the square into 30 squares.
Melt chocolate in the microwave or over a double boiler until smooth. Stirring often!
Dip each square half way in the chocolate and place on a cooling rack to let the excess drip off.
When the chocolate has hardened, I put mine in the refrigerator to speed the process, you can store at room temperature for up to a week.
Mine never last this long though!
If you liked these, try my full-sized Paleo Snack Bars!